New Paris tram line benefits from T-Kartor's city wayfinding platform
A brand new Parisian tram line will enter into service in the French capital this weekend, with T-Kartor supporting users by providing them with accurate transport and local area information.
Line T9 runs between Porte de Choisy, on Paris's southern edge, out along a 10km route to Orly town centre (near to the French capital's second largest airport). The new tram line replaces an existing bus service, the 183, in response to rising passenger demand.
As well as an improved transport service, users along the route will benefit from enhanced information at each tram stop that details not only available transport options, but also their immediate vicinity.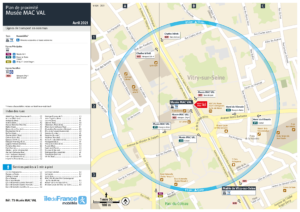 These plans de proximité have been produced by T-Kartor's city wayfinding platform, each one combining precise outputs from a stylised cartographic database with complex transport data processing.
Erik Körling, Managing Director of T-Kartor Content Management, said: "The introduction of a faster, higher capacity mode of transport is an exciting development for those travelling from the south of Paris into its suburbs. T-Kartor are proud to help them on their journey by offering stop-specific transport and local area information, through our partnership with Île-de-France Mobilités."
The platform, named LLAMA, is made available to the region's more than 80 bus service operators through T-Kartor's web portal, on which operators may place orders for plans specific to any stop they serve. The platform also serves as the backbone for other transport information and pedestrian wayfinding systems in London, New York, Toronto amongst others..
Weblinks: Île-de-France Mobilités | T-Kartor City Wayfinding